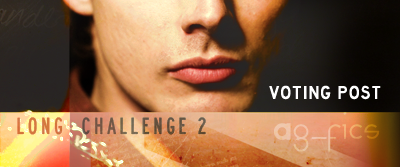 Voting Open:

Now ||>>>>

Voting Closes:

Friday the 22nd of July, 23:59 (

AEST

)



Long Challenge 2 Voting is now on, below you'll find a Masterlist that will take you to all 9 of our wonderful entries :D



(This banner is based on the fact that I very obviously favour Gwen in all respects...so I decided to try and give Arthur a bit of spotlight, for once)


_______________________



ENTRIES



Entry 1: Fate's Weave - G - 2,119 words:

...she scratched the base of her skull and yawned, looking about the room at the flung jeans and wandering vaguely where was the white shirt she had worn last night, it was not amongst the other discarded items on the floor. Oh wait, she looked down. Right, she was still wearing it...

Entry 2: To Which We Celebrate - PG - 2,272 words:

Arthur starred at the empty vessel and then at his increasingly inebriated friend.

"Merlin, why is it that whenever a woman goes into labor, you believe the most appropriate action is drinking to the point you cannot remember your name?"

Entry 3: Yellow Post-it Notes - PG - 1430 words:

She should have known better than to accept the interview at Pendragon towers. Their eyes meet across the corridor and the next thing she knows is that she's pressed up against the door of his office, clawing at his shirt...

Entry 4: Bronze and Gold - PG - 857 words:

...whenever a celebratory occasion came, the sons of King Arthur and Queen Guinevere gave their mother a gift they themselves had made...


Entry 5: Born Under A Bad Sign - R, Language - 6084 words:

"She's a hostage," he explained desperately.

"Yes, of course she is, Nigel. Hostages are never, ever bound and they are always given arms to defend themselves and what sort of hostage wouldn't be left unguarded inside their capture's tent."


Entry 6: The Choices We Make - R - 3804 words:

He closed the distance between them, his hand reaching out to cup her face. At his touch, her eyes flutter close, her breathing roughen and he felt her tremble slightly. There was so much he wanted to say, to explain, to apologise but he didn't have the words...


Entry 7: One Time or Another - PG13 - 853 words:

Left, right, upwards, downwards. The carriage weaved through the cave like a snake through the branches of a tree. Except it was faster. Darkness switched to light and then the other way around. With light there came monsters, some were the size of a man while others towered over them. Roars and growls echoed; sounds following the carriage as it rushed past.

Entry 8: Alien - R - 3087 words:

"You do have a name, right?"

He nods just slightly, not a clear yes or no, before she feels the petal brush her cheek. Her sensitive skin flares. It could be infective. It could be poisoning her already. It feels so luxurious though, so oddly chemically alluring, making her breathe fast. It vulnerably leaves her mouth open for seconds at a time, enough.

Entry 9: Outside the Lines - PG13 - 10,048 words:

Part A: In all his sheltered, public school upbringing, Arthur had never known anyone like her. She fascinated him more than any woman he had ever met...

Part B: "I don't know what you're doing here," he warned, "but I'm about to call the police."

___________________________



VOTING



To keep it secret (like Merlin) we're going to do this the Old Way. Copy the form, paste it into a comment below and fill it out with your favourites:



We won't be doing Mod's Choice, just First, Second and Third (so it's all up to you guys).

Every entry will get a participation banner :)

Please do not vote for yourself or ask anyone else to.

___________________________



COMMENTS ARE LIKE FINDING MONEY ON THE GROUND

...(except you know where they came from)

Each individual entry post is SCREENED (until the Winners are announced) so please do leave at least a little feedback for our Writers to grin over later.

It's been my experience (both on the giving and receiving end) that Writers like to know how their work was responded to - Did you: howl with laughter, or sniffle, or widen your eyes comically? Did you gasp aloud? Frown at the screen before you? Almost knock over a lamp as you flailed?

And what about it caused the feelings you had was it: the phrasing, the timing, or perhaps the ending?

Quote what you enjoyed - pick quotes from their fics - and say what about that phrase/line/couple of sentences made you take notice (and in some cases, made you read it over again).

Note: I've added a section on the Voting Form for your comments about
ag_fics and LC2, but all comments ABOUT SPECIFIC FICS - your little HEEs and AWHs to the Writers - should be posted on the actual fic's post, not here.
____________________

(How cool would it be if this scrolled across your screen? But alas I know not how...) THIS POST IS SCREENED. COZ THIS BE A SECRET VOTE. MINI CHALLENGE THREE WILL BEGIN SOMETIME AT THE END OF THIS MONTH...WE HAVE SOME NEWS THAT WE WILL BE POSTING ABOUT SOONISH...ONCE WE FIGURE OUT WHAT THAT NEWS ACTUALLY IS...IT'S NOT ALIENS. NOT THIS TIME ANYHOW.